HR/IT Seminar & Golf Social
Join us for an exciting day of learning, networking, and golf!
This event is free to attend but is by invitation only. Registration must be before September 1st. Contact us here if you have any questions.
This is a great event to cultivate new relationships, gain knowledge, all while enjoying the weather outside of the office. The event will start with a panel of local Human Resources and Information Technology experts discussing the current recession and what that means for our "return to norm". What does the economical climate mean for current salary ranges, work from home requirements and hiring practices? 
After the panel discussion, there will be time to network with peers and interact in the vendor hall to explore solution opportunities for your businesses.
With limited space, we encourage a timely response to reserve your spot.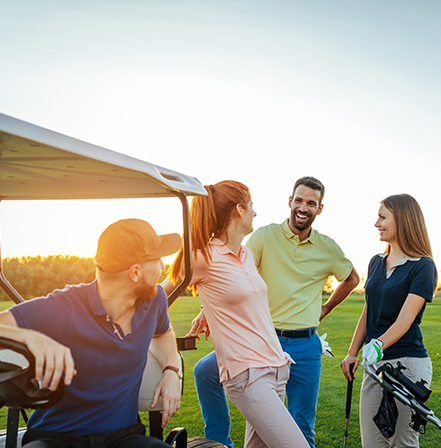 This event is free to attend but is by invitation only. Registration must be before September 3rd. Contact us here if you have any questions.
Sr. Business Systems Consultant
Bob Herrera is a Sr. Business Systems Consultant at Mutual of Omaha.  Bob works with the Information Services intern program and is the relationship manager for the external staffing vendors.  He is involved in recruiting and retention efforts on behalf of the Information Services Operation.
Bob joined Mutual in 1986 as an entry level programmer.  He has held multiple positions including Systems Analyst, Project Manager, and Information Services Manager.
Bob has a bachelor's degree in business administration from Kearney State College.  He has a master's degree in business administration from the University of Nebraska at Omaha.
First National Bank of Omaha
Director of Talent Acquisition
Originally from KC, she has made Omaha her home since 2002. Omaha is where she enjoys amazing friends and works to make a real difference in the community. She has a Bachelor's Degree in Marketing Management from Bellevue University and a proud graduate of Leadership Omaha Class 40–arguably the best class ever.
At First National Bank of Omaha (FNBO), she leads the Emerging Professionals and Collegiate Recruiting programs.
"When it comes to your career, finding the perfect job isn't easy. It's about the work, the company, the people and the impact. When I said 'yes' to the Bank in 2011, I knew I had found it all. I saw an opportunity to do more, not just in challenging myself but with enhancing FNBO as a whole."
She is moved and so appreciative for the opportunity to help others find their passion at FNBO. One of her favorite things is sharing in others' milestones; sharing the excitement of engagements, weddings and starting their families.
She still believes she has the best role in the Bank! People are her passion!
Farm Credit Services of America
Vice President, Solution Delivery
Mr. Thomas Sowinski has over 21 years of guiding and digitally transforming large corporations. He has a background in technical leadership, strategic planning, software development, creating and building global teams, as well as change management within the insurance, banking, and financial industries.
A sought-after speaker, Thomas has spoken at numerous national conferences, such as Laserfiche Empower, AIM Infotech, and Telehealth Secrets.
In addition, he currently sits as the Secretary of US Youth Soccer and is a member of the US Soccer Federation Youth Council.
He holds a Bachelor of Science degree in Information Science from Fairfield University.
Limited sponsorship opportunities are available.